AcraStrip 600 B & G Automotive Cleaner - Acetone Substitute
PolyChem AcraStrip 600 B & G Mod Auto is a water-soluble, aqueous, non-hazardous environmentally friendly cleaner that was designed to replace acetone, toluene, MEK, hexanone, mineral spirits, Methylene Chloride, Xylene, MIBK, Ketones and other petroleum-based products in automotive applications. Polychem AcraStrip 600 B & G Mod Auto was developed in partnership with the U.S. EPA DFE program and is used in the automotive industry and aftermarket application, as well as the coatings/adhesives manufacturing and aerospace industries.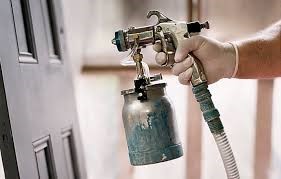 Non-Toxic, Aqueous Solvent Alternative
PolyChem AcraStrip 600 B & G Mod Auto is HAPS free, biodegradable, non-flammable, non-toxic, aqueous, low VOC, pH neutral, and recyclable. AcraStrip was designed to clean, strip and flush both cured and uncured solvent-borne and waterborne coatings. AcraStrip 600 B & G Mod Auto is used to clean electrostatic bells, paint guns, plural component metering systems, and pressure pots and pumps during multiple color changes in a production environment. The active ingredient in AcraStrip 600 B & G Mod Auto allows for the thorough removal of residual paints during rapid color changes.
PolyChem AcraStrip 600 B & G Mod Auto goes after:
Plural component metering systems
High solids bake enamels/polyesters in an electrostatic bell, disc, and pumps
One- and two-component urethanes and epoxies in coil coat and curtain coating apps
Additionally, AcraStrip 600 B & G Auto also works for flushing all waterborne epoxies and urethanes. AcraStrip can efficiently outperform or replace traditional solvents such as acetone, toluene, MEK, and thinners due to its unique lifting characteristics. Its green technology allows for re-use with very little loss of material.
Looking for the AcraStrip 600 Safety Data Sheet?
We have Safety Data Sheets available at your request. Please complete the SDS form and an AcraStrip representative will reach out to you soon with the appropriate paperwork.
Phasing in AcraStrip for Automotive Applications
Follow the steps to replace solvents such as acetone, toluene, and MEK with safe and environmentally-friendly AcraStrip in your automotive applications.
Automotive Applications Include
Ultrasonic units
Spray wash
Gun washers
Pressure pot
Floor cleaning
Hot melt machines
Parts washers
Line maintenance
During line flushing, apply air chops and perform a final air purge when using the AcraStrip 600 B & G Mod Auto as a purge solution. AcraStrip 600 products respond best to pressure. Be sure to apply a minimum of 65 PSI for optimum results. The AcraStrip 600 B & G Mod Auto utilizes the HAPS-free solvents to reduce the paint while utilizing the paint-friendly surfactants to shear and completely remove all paint residues from the paint-line walls. AcraStrip 600 B & G MOD Auto does not need to be heated for flush applications but can be heated for stripping applications.
Clean up or Wipe Down
Use AcraStrip with a saturated rag on areas where dexterity is key. This may include wiping down paint guns, hoses, and other paint-laden substrates. AcraStrip also works very well on wiping down glass windows, shields, and doors in paint booths.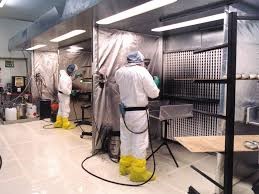 Applications Include
Paint kitchens
Condensate in ovens
Paint overspray
Permanent markings
Glue overspray
Paint Stripping
For paint removal, when the paint is dried on/cured, it usually requires full immersion of that part in AcraStrip. The solution can be used straight or 1:1 with water. Fast-acting stripping will take place when you heat the solution to 150°-165° F. Longer soak times will enable you to use the solution at ambient temperatures. Especially in 2K coatings applications, parts integral to plural component metering systems (valves, integrators, meters, etc.) It can be immersed in AcraStrip and revitalized. AcraStrip can also be used to strip re-work, booth grates, hooks, racks, and jigs replacing off-site burn-off applications in many cases. (dilute the AcraStrip 1:1 for the stripping applications)
Test Procedure
Add AcraStrip to a clean 5-gallon pail. (for faster results, we recommend that you heat the solution to 150° F). Submerge a few test parts in the solution and check on them every 15 minutes. It may require an air blast or some other mechanical activity to remove the coating thoroughly.
Applications Include
Water-based stains
UV coatings
Solvent-borne adhesive
Resin
Water-borne adhesive
Foams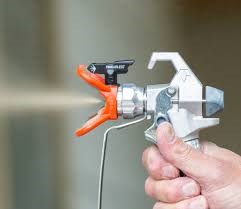 Paint Gun Cleaning
AcraStrip works very well in paint gun washing systems as well as manual cup gun cleaning applications. We recommend a gun washing system have a screen, filter, or strainer added to the suction side of the pump. (Use straight or at 10-50% concentration with water, ambient temperatures)
Paint Gun Pump Flushing
AcraStrip can be used straight or at a 50% dilution in most applications.
Test Procedure
Wipe off the intake/suction tube of the pump, remove all filter media, submerge the tube in an ample supply of the diluted AcraStrip solution and flush the pump at no less than 65 PSI. Ideally, an air purge should follow the paint line when possible. This will ensure total evacuation of the solution before charging the line with the next coating. Occasionally you may run into a system that is "locked up" due to poor maintenance, etc. In this application, use the AcraStrip heated to 160° F. Continually circulate the solution through the pump and line, filtering the hardened paint through a bag filter at the discharge.
Paint Prep
Use the AcraStrip at a 10-20% solution and wipe any surface before coating with a lint-free cloth. AcraStrip does not need to be rinsed in most applications, and the new coating can be applied right over AcraStrip. Once painted and dried, AcraStrip will not affect the bond and in a lot of cases will promote a better bond.
Tote Cleaning
Use the AcraStrip as is or at a 50% solution. Heating the AcraStrip up to 160 f will accelerate most applications. A spraying system at between 200 – 1000 PSI can be used or fill, recalculate, and filter system can be used to assist.
Applications Include
Mixing tanks
Reactor tanks
Returnable totes
Line Maintenance
Customers typically have a line they flush on a continuous basis that has a build-up of paint. Additionally, for customers who have paint lines where they rotate colors, or switch coatings from one coating to another (a new paint company, a new type of paint, or switch from water-borne to solvent-borne). Rather than run new lines in any of these scenarios the PolyChem AcraStrip will effectively strip these lines out at room or elevated temperatures. AcraStrip would be used as-is or at 25-50% concentrations with in-line filtration if possible to prevent recontamination of old stripped out paint.
Recycling AcraStrip
AcraStrip is recycled easily through simple settling. After use, the AcraStrip should be left still to settle. The paint, adhesives, oil, and contaminants will fall to the bottom. The top portion of the AcraStrip will reclarify itself and is then poured off for reuse. The waste at the bottom is deemed non-hazardous for disposal which will greatly reduce costs associated with the disposal of solvents such as acetone, MEK, Xylene, and thinner.
Cost savings
PolyChem AcraStrip 600 B & G Mod Auto has additional saving as it relates to the traditional solvents. PolyChem AcraStrip typically lasts 5-7 times longer than most solvents due to its slow evaporation rate and reusability. End-users of other solvents lose 30-35% of their solvents in their workplace through evaporation. Due to the slower evaporation rate of AcraStrip, these losses are negligible.
Over time, solvents lose their ability to clean due to their load capacity. Because of AcraStrip's ability to settle, the limited waste after using it daily allows for constant re-use; further extending the life of AcraStrip. There are no hazmat shipping fees or special handling for AcraStrip and is operator safe. Lastly, AcraStrip 600 B & G Mod Auto is typically used with a 10-50% concentration. Final concentration determines additional saving further making AcraStrip 600 B & G Mod Auto very economical.
Safety & Benefits
Non-flammable
100% HAPS free
Biodegradable
Greatly reduced health and safety issues
DOT non-regulated shipping
No SARA 313 reportables
Easily recyclable
Operator-safe
No hazardous air pollutants
Made in the US
Purchase Your Safe Automotive Cleaner from AcraStrip
To learn more or place an order for AcraStrip products, please complete our contact us form. You can also call us at 800-431-2072 or send us an email to discuss your application.