Environmentally Friendly Paint Removal
There is a wide range of ways to effectively remove paint. However, not all of these ways incorporate an environmentally friendly green paint removal process. Paint removal cleaners that incorporate an ecological approach to their compound structures are becoming more and more appealing to the public. The acceptance of cheap, dangerous, or environmentally harmful products is no longer an option for a large amount of the population.
Paint Removal Process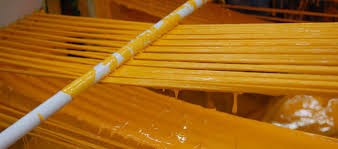 Depending on how stubborn the prior coat wants to be, the paint removal process can often be frustrating and tricky. The removal of old paint in the proper manner will ensure a better finish after the new paint is applied. The following paint removal methods have been used with great success time and again.
Scraping
The best way to remove chipped paint is by using a paint scraper or putty knife. A faster, albeit more expensive method of scraping, is by using a high-powered water jet. This method is convenient, but it uses a lot of water and is very messy. An electric drill with a wire brush attachment is also a viable option.
Solvent
There are many benefits of using a green paint removal solvent such as AcraStrip 800 and the AcraStrip 600 series from Polychem. These green paint removers are 100% biodegradable, HAPs free, non-hazardous, aqueous, environmentally neutral, and recyclable. These green industrial paint removing solvents can be used anywhere that traditional chemical-based solvents are used. The AcraStrip series provides an eco-friendly paint removal system that can effectively remove various types of paints and chemicals, including:
Urethanes
Grease
Methacrylate
Adhesives, including hot melt adhesives
Open- and closed-cell foam
Polyester resins
Vinyl ester resins
Gel coats
Glazes
Varnishes
Heat Guns
A heat gun is also a viable method for removing paint. Heat guns that can reach around 500° F are effective at removing numerous layers of paint. However, this process is prolonged and tedious and not recommended for large paint removal projects.
Sanding
A sand machine or regular pieces of sandpaper can also be used to remove paint. However, this process can often leave swirls or dips in the wood, which will show through after a new coat of paint is applied. If this method is chosen, an electrical orbital sander is recommended.
AcraStrip Acetone Replacements

Product Name
AcraStrip 600 CRR
AcraStrip 600 Auto
AcraStrip 600 MIL
AcraStrip 800
AcraStrip 950
AcraStrip 700
Flammability
NONE
NONE
NONE
NONE
163°F (73°C)
NONE
SARA 313
NONE
NONE
NONE
NONE
NONE
NONE
HAP Content
Zero
Zero
Zero
Zero
Zero
Zero
Odor
Mild
Mild
Mild
Mild
Mild, sweet
Mild
Dilutable
Yes
Yes
Yes
No
No
Yes
pH
Neutral
Neutral
Neutral
Neutral
5.5-6.0
Neutral
Appearance
Clear liquid
Clear liquid
Clear liquid
Clear liquid
Clear liquid
Clear liquid
Biodegradable
Yes
Yes
Yes
Yes
Yes
Yes
Use Temp.
Ambient-
165°F (74°C)
Ambient-
165°F (74°C)
Ambient-
165°F (74°C)
Ambient-
165°F (74°C)
Ambient
Ambient-
165°F (74°C)
Green Paint Removal Solvents
A green paint remover is one that conserves natural resources, avoids toxic emissions, saves energy offers low VOCs, and contributes to a safe and healthy environment. Green products such as AcraStrip 800 and 600 contain no volatile organic compounds and provide proper sustainability, composition, function, disposal, and cost-effectiveness. AcraStrip products are easily recycled through simple settling. These green industrial paint removal products can also be collected in drums or totes and allowed to settle for 24-48 hours.
Cost Savings Associated with Green Paint Removal Solvents
Eco paint removal products typically last 7-10 times longer than most solvents due to their slow evaporation rate and reusability. Solvent users lose 30-35% of their solvents in the workplace due to evaporative losses from closed and open tanks. Alternative Acetone products such as AcraStrip have slower evaporation rates, which provides for only negligible losses. This allows for a longer product and tank life.
Contact Us to Learn More About AcraStrip, the Green Paint Remover
To order AcraStrip industrial paint removal products, call us at 800-431-2072 ext. 360 or email Mark Paul today.