Eco-Friendly Industrial Strength Paint Stripper
There are many ways to effectively remove paint during industrial work. Depending on how stubborn the prior coat wants to be, the paint removal process can often be frustrating and tricky. Scraping, heat guns, sanding, and paint removing chemicals are all traditional methods for paint removal, but they take time, effort, resources, and can pose health hazards to workers.
The best industrial paint removal solution is to use an eco-friendly green stripping product, such as AcraStrip. AcraStrip products are 100% biodegradable, HAPS-free, non-hazardous, aqueous, and recyclable. The best way to use our Acrastrip is in a dip tank.  Parts, tools, pumps, regulators, paint guns would be submerged anywhere from ambient temperature up to 160 F for stripping.  Acrastrip can be utilized anywhere traditional solvents are used, delivering excellent results stripping paint from a wide variety of parts in the industrial field.
Ready to learn more about how AcraStrip can replace acetone as an industrial paint stripper at your facility? Contact us today!
Traditional Paint Removing Chemicals Raise Risk in Industrial Facilities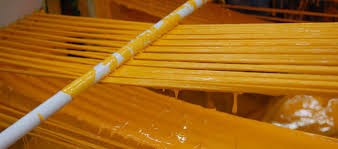 For a long time, the main method of removing paint during industrial work was to apply fast-working paint-removing chemicals, particularly methylene chloride. This paint stripper has a severe odor and high VOC content, and it can only be used in well-ventilated areas due to its high toxicity. Methylene chloride, acetone, mineral spirits, and other harsh chemical paint strippers all contain ingredients that raise the risk—and insurance costs—at your facility as they can damage workers' skin, eyes, nervous and respiratory systems, and internal organs.
AcraStrip is an Odorless Industrial Paint Stripping Alternative
Eco-friendly AcraStrip 800 and AcraStrip 600 industrial-strength paint strippers can be applied anywhere traditional chemical-based solvents are used. Our products are used across industries to remove:
Urethanes,Epoxies
Grease
Methacrylate
Adhesives, including hot melt adhesives
Open and closed cell foam
Polyester resins
Vinyl ester resins
Gel coats
Glazes
Varnishes
AcraStrip 800 and 600 series cleaners conserve natural resources, avoid toxic emissions, save energy, offer low VOCs, and contribute to a safe and healthy environment. Our industrial-strength paint strippers provide proper sustainability, composition, and function. Our products are completely recyclable and reusable, so they are a cost-effective and high-performance alternative to traditional paint-stripping chemicals.
AcraStrip Acetone Replacements

Product Name
AcraStrip 600 CRR
AcraStrip 600 Auto
AcraStrip 600 MIL
AcraStrip 800
AcraStrip 950
AcraStrip 700
Flammability
NONE
NONE
NONE
NONE
163°F (73°C)
NONE
SARA 313
NONE
NONE
NONE
NONE
NONE
NONE
HAP Content
Zero
Zero
Zero
Zero
Zero
Zero
Odor
Mild
Mild
Mild
Mild
Mild, sweet
Mild
Dilutable
Yes
Yes
Yes
No
No
Yes
pH
Neutral
Neutral
Neutral
Neutral
5.5-6.0
Neutral
Appearance
Clear liquid
Clear liquid
Clear liquid
Clear liquid
Clear liquid
Clear liquid
Biodegradable
Yes
Yes
Yes
Yes
Yes
Yes
Use Temp.
Ambient-
165°F (74°C)
Ambient-
165°F (74°C)
Ambient-
165°F (74°C)
Ambient-
165°F (74°C)
Ambient
Ambient-
165°F (74°C)
Safe & Effective Paint Removal for Any Industry
Any industrial work involving paint stripping can benefit from our odorless industrial paint stripper products. AcraStrip quickly and efficiently strips paint from Automotive, ecofriendly, odorless, for ferrous or non-ferrous metals, plastic, ceramic and glass
Automotive Work
AcraStrip 600 series and 800 cleaners are the ideal industrial paint stripper for metal in the automotive industry. They safely remove paint, overspray, marker, mastic, blue goop, and more to prepare automotive assemblies for further processing.
Marine Assemblies
AcraStrip 600 series cleaners are an excellent alternative to acetone for cleaning and stripping paint from marine assemblies. Non-flammable and effective for removing cured and uncured resins, gel coats, epoxy coatings, and more, AcraStrip works well to clear ceramic, plastic, metal, glass fiber composites, and more.
Replace Paint Removing Chemicals with AcraStrip Industrial Paint Stripper
AcraStrip industrial strength paint strippers are the ideal alternative to harsh paint removing chemicals traditionally used in industrial applications. Call 800-431-2072 or contact us today to learn more about AcraStrip industrial paint removal products or to begin your order. We'll help you evaluate your options to find the best AcraStrip product for your industrial application.