Cleaning Your Paint Spray Gun
When choosing a method for cleaning your paint gun, it's important to select the right cleaner as a real effective substance is needed to properly unclog built-up lacquer, paint residues and spitters. While products like acetone, xylene and toluene are popular and traditionally used they can pose several serious health and safety risks.These type solvents contain HAPS, are flammable, environmentally hazardous, and harmful to the health of the user.  Our Eco-friendly paint sprayer cleaning substitute such as the AcraStrip family of products, are your best solution.
How Safe & Effective AcraStrip Benefits Your Operations as a Paint Sprayer Cleaner
AcraStrip 600 and other AcraStrip products are industrial or commercial paint gun solvent replacements and paint sprayer alternatives. The benefits of choosing one of our paint sprayer cleaners include: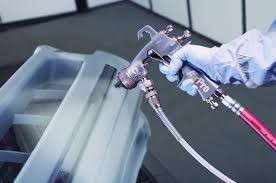 Ability to replace MEK, toluene blends, acetone, xylene, hexane, cyclohexanone, mineral spirits, and other hazardous solvents
Non-hazardous and non-flammable
Fully recyclable through simple settling
Aqueous and eco-friendly product formulated in tandem with the EPA
Cost-effective to use
Slow evaporating
Safe to use, store, and dispose
Does not dry out seals and hoses
Low odor and zero HAPS
And more!
AcraStrip paint gun cleaners usually last 5-8 times longer than most solvents due to their slow evaporation rates and reusability. In addition, many paint gun solvents lose their ability to clean for an extended period due to their load capacity. Since AcraStrip can separate waste from reusable cleaner, this acetone alternative has a longer half-life compared to traditional solvents.
AcraStrip Acetone Replacements

Product Name
AcraStrip 600 CRR
AcraStrip 600 Auto
AcraStrip 600 MIL
AcraStrip 800
AcraStrip 950
AcraStrip 700
Flammability
NONE
NONE
NONE
NONE
163°F (73°C)
NONE
SARA 313
NONE
NONE
NONE
NONE
NONE
NONE
HAP Content
Zero
Zero
Zero
Zero
Zero
Zero
Odor
Mild
Mild
Mild
Mild
Mild, sweet
Mild
Dilutable
Yes
Yes
Yes
No
No
Yes
pH
Neutral
Neutral
Neutral
Neutral
5.5-6.0
Neutral
Appearance
Clear liquid
Clear liquid
Clear liquid
Clear liquid
Clear liquid
Clear liquid
Biodegradable
Yes
Yes
Yes
Yes
Yes
Yes
Use Temp.
Ambient-
165°F (74°C)
Ambient-
165°F (74°C)
Ambient-
165°F (74°C)
Ambient-
165°F (74°C)
Ambient
Ambient-
165°F (74°C)
How to Clean a Spray Gun with AcraStrip
Spray guns should be cleaned and inspected at least once a week to ensure proper performance. No matter your preferred cleaning technique for paint guns or paint lines, AcraStrip provides easy, safe, and effective cleaning:
Spray Out. The best way to use AcraStrip spray gun cleaner is to add a small amount into the pressure pot or cup gun. The paint can be removed by working the Acrastrip through the gun and spraying it toward a bucket or booth until clean.
Ultrasonic unit. The quickest way to clean the inner and outer portion of a paint sprayer or gun is by dropping the gun into the ultrasonic unit for a couple of minutes with a quick rinse or ai blow off.
Automatic Gun Washers. Automatic gun washers are the safest and most effective way to clean a paint gun or sprayer as they reduce the amount of time spent cleaning guns and free workers for higher-order tasks. However, automatic gun washers are typically dedicated to specific types of paint sprayer cleaning solvents. Call 1-800-431-2072 ext. 360 to discuss your equipment and if AcraStrip is applicable to your operations.
Airless Paint Sprayer Cleaner
Airless paint sprayer cleaning can be a challenging task. Use these steps to effectively clean airless paint guns with AcraStrip products:
Assemble your necessary tools, including an empty bucket, a bucket containing water and AcraStrip paint gun cleaner, rags or paper towels, a wrench for disassembly, and PPE.
Empty any leftover paint from the pump, following your manufacturer's manual for equipment-specific instructions.
Empty leftover paint from the hose line.
Flush out the system using high-performance AcraStrip.
Clean the airless spray gun filters.
Use a small cloth to clean the exterior paint gun body and nozzle.
Blow off the airless gun with clean air.
Reassemble the airless paint sprayer.
HVLP Paint Gun Solvent Alternatives
High Volume Low Pressure (HVLP) paint guns, including Wagner paint sprayers, require careful cleaning to deliver excellent results. Use these steps to apply AcraStrip as a highly effective HVLP paint gun solvent alternative:
Assemble all required tools, including a bucket with clean water and AcraStrip, a receptacle for waste, towels, a spray gun cleaning kit, a wrench for disassembly, and PPE.
Disconnect the paint gun from the hose and remove the cup to clean it.
Following the instructions in your manufacturer's manual, disassemble the gun for full deep cleaning.
Allow the needle, spring, and spray tip to soak while cleaning the body of the paint gun.
Ensure needle, spring, and other components are completely clear of paint, varnish, or lacquer.
AcraStrip is Your #1 Paint Gun Solvent Substitute & Mineral Spirits Alternative
AcraStrip is the premier eco-friendly paint gun solvent substitute for industrial applications. Contact us today to learn more about how we can improve your operations through fully aqueous biodegradable paint gun solvent alternatives.