Cleaning Your Paint Spray Gun
When choosing a method for cleaning your paint gun, it's important to choose the right cleaner. A strong substance is needed to properly unclog built-up lacquer and paint residues from the paint sprayer or gun. Many people turn to acetone for its well-known paint stripping properties. However, using acetone as a paint gun cleaner can pose some health and safety risks. Acetone is a volatile organic compound (VOC) that is flammable, environmentally hazardous, and harmful to the health of the user. Luckily, there are healthy alternatives to acetone like AcraStrip 600 that can be extremely useful when cleaning your paint spray guns.
Paint Sprayer Cleaning Methods
Spray guns should be cleaned and inspected at least once a week to ensure proper spray performance. If you have ever been curious as to how to properly clean a paint gun, or how to clean paint lines, AcraStrip 600 provides an easy, safe, and effective cleaning method. The following techniques have been proven successful using replacement acetone paint cleaners like AcraStrip.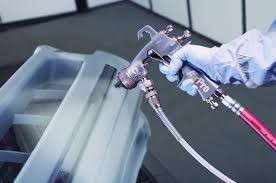 Spray-Out – The best way to clean the inner working of a paint gun or sprayer is by adding a small amount of a paint gun cleaner like AcraStrip 600 into the empty top container of a paint gun. The paint can be removed by working the cleaner through the gun and spraying it towards a piece of paper until the top container is empty. If you then adjust the fluid and airflow it will allow the cleaner to successfully empty out the inner working of the gun, removing the majority of hard to access paint particles.
Brush & Wire Method -  The quickest way to clean the nooks and crannies of the outer portion of a paint sprayer or gun is by dipping a wire or brush into a paint gun cleaner or acetone replacement like AcraStrip 600, and scrubbing the outside of the paint gun.
Automatic Gun Washers - Automatic gun washers are the safest and most effective way to clean a paint gun or sprayer. Gun washers reduce the amount of time spent cleaning guns and allow the painter to do other tasks while the gun is being cleaned. Gun washers typically are dedicated to the type of paint sprayed, solvent or waterborne, based on the chemical cleaners used in them. However, automative gun washers are expensive and may not be ideal for smaller outfits.
AcraStrip Acetone Replacements

Product Name
AcraStrip 600 CRR
AcraStrip 600 Auto
AcraStrip 600 MIL
AcraStrip 800
AcraStrip 950
AcraStrip 700
Flammability
NONE
NONE
NONE
NONE
163°F (73°C)
NONE
SARA 313
NONE
NONE
NONE
NONE
NONE
NONE
HAP Content
Zero
Zero
Zero
Zero
Zero
Zero
Odor
Mild
Mild
Mild
Mild
Mild, sweet
Mild
Dilutable
Yes
Yes
Yes
No
No
Yes
pH
Neutral
Neutral
Neutral
Neutral
5.5-6.0
Neutral
Appearance
Clear liquid
Clear liquid
Clear liquid
Clear liquid
Clear liquid
Clear liquid
Biodegradable
Yes
Yes
Yes
Yes
Yes
Yes
Use Temp.
Ambient-
165°F (74°C)
Ambient-
165°F (74°C)
Ambient-
165°F (74°C)
Ambient-
165°F (74°C)
Ambient
Ambient-
165°F (74°C)
Replacement Acetone Paint Cleaner Benefits
AcraStrip 600 acetone paint cleaner replacement is a powerful bio-friendly cleaning compound that replaces MEK, toluene blends, acetone, xylene, hexane, cyclohexanone, mineral spirits, and other hazardous solvents for resin and paint equipment clean-up. The benefits of this earth-friendly paint sprayer cleaning solution, include:
Non-hazardous
Non-flammable
Fully recyclable
Slow evaporating
Safe to use, store & dispose
Does not dry out seals & hoses
Low odor
Low VOC's
Made in the US
Eco-Friendly, Aqueous Acetone Replacement Paint Gun Cleaner
An aquoeus, green paint removal product for paint sprayers and guns is one that conserves natural resources, avoids toxic emissions, saves energy, and contributes to a safe and healthy environment. Green products such as AcraStrip 600 provide proper sustainability, composition, function, disposal, and cost-effectiveness. AcraStrip products are easily recycled through simple settling. This green paint removal alternative solvent can also be collected in drums or totes and allowed to settle for 24-48 hours.
Cost Savings of Replacement Acetone Paint Cleaners
Eco-friendly paint gun cleaners usually last 7-10 times longer than most solvents due to their slow evaporation rate and reusability. Solvent users lose 30-35% of their solvents in the workplace due to evaporative losses from closed and open tanks. Alternative acetone products such as AcraStrip have slower evaporation rates, which provides for only negligible losses. In addition, many solvents lose their ability to clean for an extended period due to their load capacity. Since AcraStrip 600 can separate waste from reusable cleaner, this acetone alternative has a longer half-life compared to traditional solvents, allowing for an overall increase in cost savings.
Contact Us for Paint Sprayer Cleaning AcraStrip Today
To order AcraStrip, an acetone replacement paint cleaner, call us at 800-431-2072 ext. 360 or email Mark Paul today.