Factory Maintenance Chemical Alternatives
Without a proper factory maintenance program in place, facilities place themselves at risk of costly equipment repairs and malfunction that result in a loss in productivity and subsequent overtime. To prevent these issues, plant maintenance programs are implemented to perform preventative maintenance that involves routine cleaning and maintenance to ensure equipment remains at its optimal operating condition. SAP plant maintenance programs typically utilize chemicals such as acetone that are known for their effectiveness, but the use of these chemicals also presents a number of workplace dangers.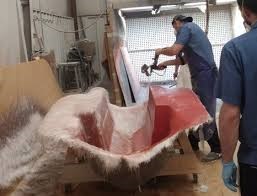 Acetone is an industrial cleaning product that is commonly used for degreasing or cleaning due to its effectiveness, but there are several risks associated with the product. Acetone is a volatile organic compound that is extremely flammable and produces hazardous fumes. Exposure to the vapors can result in irritation of the eyes, nose, and throat, and cause respiratory distress or unconsciousness with prolonged exposure. There is also a risk of explosion if vapors accumulate in the air or if the product is not properly stored. Protective gear must also be worn to protect the skin and if the product spills, it poses a danger to workers and the environment.
Using Environmentally-Friendly Alternatives for Factory Maintenance
AcraStrip can be used to replace acetone and other cleaning and degreasing chemicals in your factory maintenance applications. It can also be used within your SAP plant maintenance program in place of acetone and other chemical solvents typically used for preventative maintenance including cleaning and maintaining equipment.
AcraStrip Acetone Replacements

Product Name
AcraStrip 600 CRR
AcraStrip 600 Auto
AcraStrip 600 MIL
AcraStrip 800
AcraStrip 950
AcraStrip 700
Flammability
NONE
NONE
NONE
NONE
163°F (73°C)
NONE
SARA 313
NONE
NONE
NONE
NONE
NONE
NONE
HAP Content
Zero
Zero
Zero
Zero
Zero
Zero
Odor
Mild
Mild
Mild
Mild
Mild, sweet
Mild
Dilutable
Yes
Yes
Yes
No
No
Yes
pH
Neutral
Neutral
Neutral
Neutral
5.5-6.0
Neutral
Appearance
Clear liquid
Clear liquid
Clear liquid
Clear liquid
Clear liquid
Clear liquid
Biodegradable
Yes
Yes
Yes
Yes
Yes
Yes
Use Temp.
Ambient-
165°F (74°C)
Ambient-
165°F (74°C)
Ambient-
165°F (74°C)
Ambient-
165°F (74°C)
Ambient
Ambient-
165°F (74°C)
Eco-friendly cleaning products do not produce hazardous vapors and are safe enough to use without protective equipment. They are also safe to use in ambient temperatures up to 165°F (74°C) and are pH neutral and biodegradable. AcraStrip industrial cleaning products can be used to clean, strip and degrease a range of machinery and surfaces including:
Effective and Environmentally-Friendly Industrial Cleaning Products for Degreasing
Degreasing is an important part of a factory maintenance program for removing grease, oil and other residues and from flooring and machinery. The removal of these contaminants helps prepare parts for finishing and is used for general cleaning as part of a preventative maintenance program.
AcraStrip solvent replacements are a safer and more environmentally-friendly aqueous alternative to acetone and other chemicals used for industrial cleaning and degreasing applications. They are formulated to clean, strip and flush vinyl ester, polyester, epoxy resins, gel coats, adhesives, and more. Our eco-friendly industrial cleaning products are equally as effective as acetone but are non-flammable and contain no hazardous ingredients. When used as part of our factory maintenance program, AcraStrip industrial cleaning products can help:
Create a cleaner and safer work environment
Eliminate the risk of hazardous waste
Remove the risk of fire or explosion resulting from solvents
Protect workers from harmful vapors and chemical exposure
Help lower insurance costs associated with chemical storage
Learn More About Our Eco-Friendly Industrial Cleaning
AcraStrip products are made in the US and are a highly effective and environmentally-friendly alternative to using acetone in your factory maintenance program. Contact us or give us a call at 800-431-2072 to learn more about choosing the right AcraStrip solvents for your industrial cleaning applications.